Can you all believe that our little Mickey turns 5 years old today?? 5 YEARS OLD!

When we began all of this, I never thought he would still be here with me at 5, let alone still doing so well. I have met so many dog owners through this blog, and I am thankful every day that I was able to help so many of them. Unfortunately there have been some that lost the battle and that tears at my heart every time I look at my little boy. I know we are lucky.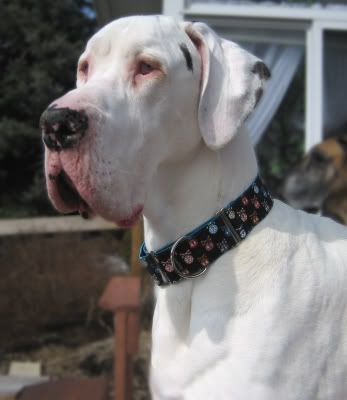 What makes me most happy is that Mick is living proof that Wobblers and Spondylosis CAN be managed, your dog CAN live a relatively full life. Mickey runs, he jumps, he plays, he does long walks in the forest preserve. Of course he gets tired more quickly than his brother, but he's a trooper, and you can really tell he enjoys the hikes!

Medically, I am not doing any supplements or pain meds right now. He VERY OCCASIONALLY gets 5 mg of Prednisone only when he's really wobbly. This seems to happen most during the summer and when his allergies are flaring up. He is still eating a raw diet, though now it is ground low-fat meats only due to his Pancreatitis. He also gets greens and starches mixed in to provide necessary fiber, that helps keep the Pancreatitis from flaring up. I massage his limbs and joints quite often, and we do stretches to keep everything limber. Mickey really enjoys this time together and will often bark from the "dog room" to let me know he's ready to be rubbed. :)

Thanks to all who have followed us almost the last 3 years, and to all of you who pass on Mickey's story to others who are struggling with how to treat their dogs' wobblers.

Enjoy the holidays!